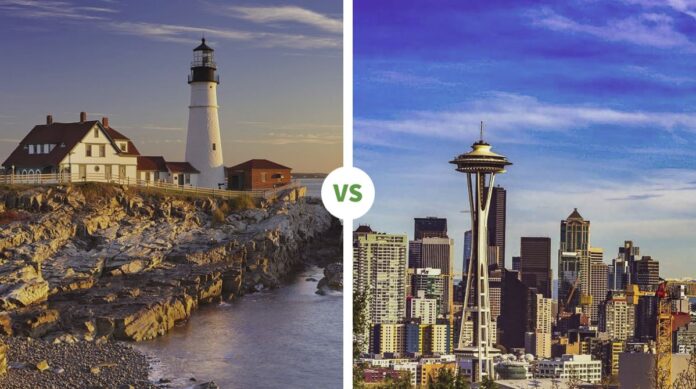 Planning a move? Saying 'moving isn't easy' is probably an understatement. After all, some experts list it as part of the top 5 most stressful events you'll face during your life. So, if you feel overwhelmed at the thought of this life change, you're not alone. 
For many, it's simply the unknown that seems so daunting. This can get even more challenging if you need to pick between different destinations. How do you really know which state, town or city will suit you best? And if your plan is to settle in the Pacific Northwest, you're probably considering Portland and Seattle, two much loved cities in that part of the country. But which one will fit you like a glove? 
What to Know Before Moving to Seattle 
Facts and stats give a reflection of the quality of life you can expect. It will also help you with practical aspects, such as budgeting. And the more prepared you are, the less you'll stress. 
Seattle Cost of Living 
How much do you need to live comfortably in Seattle? 
Firstly, prepare yourself for high property prices in some cases. In part, this is because the city became a tech hub and attracted many engineers at one stage. Luckily, there has been a lot of housing development as well, so at least you'll have many options. 
If you want to own a home here, note that it carries one of the lowest rates of millennials that can afford to own a home. On average, to rent a one-bedroom place you'll need to budget just over $2000 monthly. To support an average household, you'll need an income of around $100 000 at least. 
The good news is that the average income of people in Seattle is actually fairly high. Thanks to many tech companies making this their home, you may find it easy to get a job that pays well. 
Population 
In Seattle, you'll join a community with a population of over 750 000 people. In the city, the people are spread out over +/-142sq mi. When looking at the wider metropolitan area, there are almost 4 million people and since it has often ranked as one of the fastest-growing major cities in the US, you can expect these numbers to rise. 
Crime Rate 
Seattle's crime numbers are moderate in comparison to other US cities. You'll feel safe to venture out during the day but you should be more careful at night. Certain numbers have risen over the past few years and unfortunately, there are some increases in drug dealing and vandalism statistics. 
Lifestyle 
So, what's it like living in Seattle? The city sometimes gets mentioned on lists of 'best places to live in the US', so chances are, you'll love it too. With a lot of natural beauty in and around the city, the outdoors is easy to incorporate in your lifestyle. Just remember that Seattle often has a cloud bank that could mean rain is heading your way.
Transport Options 
Most people in Seattle do make use of the streets, so you can imagine they're busy during rush hour. So, reserving parking on an online marketplace may be in your best interest. Other options are bus services and public transit systems, with rideshare services now also available. This is actually also a very 'walkable' area to live in. 
What to Know Before Moving to Portland 
In both cities you'll join communities that enjoy making the outdoors part of their lifestyles. But the following facts will give you a good indication of what's it like to live in Portland vs Seattle. 
Cost of Living 
For cost of living Portland vs Seattle, this city won't shock you too much. Housing is reasonable and most people can maintain a similar lifestyle than in Seattle, even if they're earning a little less. For example, a one bedroom unit will cost you around $1800 to rent. 
Population 
The city covers just under 145sq mi and there are around 580 000 people living in this area. That makes for a density of just under 5 000/sq mi. In the MSA (metropolitan statistical area), you'll find about 2.4 million people. 
Portland Crime Rates 
Portland isn't the safest in all of Oregon but you can classify it as being moderate in terms of crime rates. Specific problems include the chance of cars being broken into and armed robbery. Walking during the day or night is relatively safe. 
Lifestyle 
Portland is also known as 'Bridgetown', all thanks to the multiple bridges built to cross Willemette River. Another well known characteristic is how friendly locals are. You're likely to find it more laid back than many other large cities like Seattle. 
You're bound to meet the friendly locals on outdoor excursions, since nature forms a big part of people's lives here. Along with nature loving comes an environmentally friendly focus, so actions like recycling are expected of locals. 
You can decide whether you want to live in the buzz of the city, or a more rural area further away. 
Transport Options 
In Portland, you can opt for streetcars that follow two routes and there are also bus and light rail areas where cars aren't really accommodated. A popular system is the TriMet bus system and you can track your train or bus with a real-time tracker app. 
You may run into traffic problems in Portland and it's a challenge that's getting worse over the years. Solutions such as online parking bookings and rideshare are wise considerations. 
Pros & Cons 
Portland Pros 
– Cheaper to live in than Seattle 
– Very friendly city
– Stunning outdoors 
Portland Cons 
– Bad traffic 
– Rainy weather 
Seattle Pros 
– Relatively easy to find higher-paying jobs 
– Beautiful natural areas to discover 
– Big tech companies to work for 
Seattle Cons 
– Weather 
– High living costs 
Now Make the Most of Life's Next Adventure 
You may not be able to imagine everything about your new town, but having accurate information can remove some doubts. Will you pick Portland or Seattle? The distance from Seattle to Portland is only about 170 miles apart, but they're vastly different. 
No matter whether you pick Seattle or Portland, why not make the most of your new chapter in life, by securing some passive income? You can see both cities have many drivers looking for parking each day. So, if you're your new home has a spare car space, rent it out on Spacer. 
See? There are many ways to make the unknown seem a little less intimidating.